Summary
EM/OS (Enterprise Model Operation Services) by Sphenon GmbH is a system to produce and operate business software solutions, ready for production, based on domain oriented models.
EM/OS is the result of a more than 20 year long product development, matured in continous usage in projects. From our point of view, EM/OS can be considered the most innovative technology in the area of modeldriven software development.
From Model To Software

EM/OS transforms clear and comprehensible, domain oriented models by means of multistep process into parts and blueprints, which are then dynamically assembled at runtime to adopt to their given environment.
Learn more about the creation of EM/OS at our homepage (Sphenon GmbH).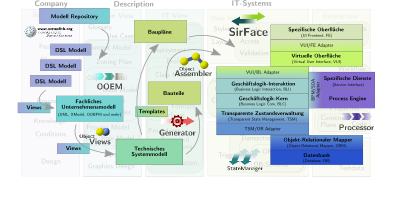 Customers

The following solutions have been produced with EM/OS-Technology:
‣ Inventory-Management-System, SCT Media Solution GmbH
‣ Insurance-Portal, Robert Bosch Risk and Insurance Management GmbH
‣ Master-Data-Management, Hermes Logistik Gruppe
‣ Online Elektronics Catalogue, Skymaster SM Electronic GmbH
‣ Online-Calculator, Rekord Versicherung AG
‣ Internet Insuranceportal, Onsecure AG
‣ Database Publishing, POET Software
‣ Business Board, venfragrid, Website, Sphenon GmbH